This blog is taking shape, and accordingly I appreciate your patience and eagerness to read on. Last week, I did a hot list entitled,
"Listen to What You're Missin',"
which was a huge success. So this is indicator I found something, suggestions to new music. Surprise.
Each Wednesday I will be posting "Listen to What You're Missin'," a list of new tracks I've discovered through blogs, magazines, or good 'ole MP3 diggin'. I'm just stickin' to my bridges, handing out good 'ole chunks of change. Think of this as a personal weekly mixtape made specially from me--for you.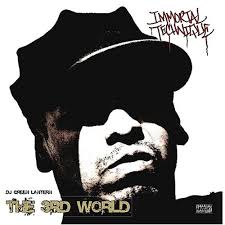 Immortal Technique
:
"Mistake"
Wait did they make a mistake, why's that MP3 skipping? Oh wait, it's just that crafty intro from Immortal Technique's "Mistake." Immortal spits a giant loogie on this track,making sure y'all hear him clearly, "When I was young / I got signed to a record label / The deal looked so good when it was on the table / it paid for my cable, cribs, cars, and jewelry / studios and women there ain't nothing they wouldn't do for me / except stop screwing me for publishing and royalties."
Word.
Mos Def ft. Slick Rick the Ruler
:
"Auditorium"
Make a big sandwich consisting of a healthy wrap Madlib beat with flute loops and Tetris keys, filled with always satisfying Mos Def butta spread, and a slice of Slick Rick the Rulers and you got
"Auditorium"
, another leaked track from Mos Def's highly anticipated album
Ecstatic
.
Of Montreal
:
"St. Exquisite Confessions"
"It's like an opus," said my stoned friend concerning Of Montreal's "St. Exquisite's Confessions." "Just wait," he says, as the intro begins like a cold electro blues with
Georgie Fruit (Aka Kevin Barnes' alter ego)
singing, "I'm so sick of sucking a dick of this cruel cruel city." Slowly the choir background builds, cools--then topples, altering into a raindrop synthesizer that peculates over a shifting beat. Three minutes into the track, the song sounds entirely different--but that's just Of Montreal style--Oh Montreal.
Grizzly Bear
:
"Two Weeks"
There isn't much I need to save for this track. These guys are hot, like Vampire Weekend was hot a year ago. Hear them, enjoy them, remember the name--Grizzly Bear.
Other Mixtape Posts of Interest:
Featured Artists: Lil Wayne, Crystal Castles, Micky Factz
Featured Artists: Phoenix, Jay Z, Camron, Micky Factz