Eve Marcellus
: #4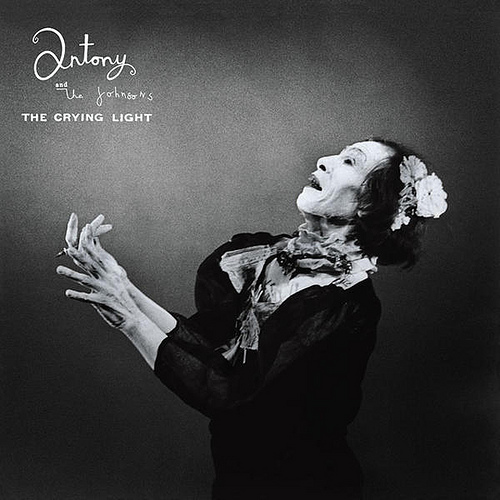 Antony and The Johnsons
:
The Crying Light
With the 2005 release
I Am a Bird Now
by Antony and The Johnsons, Antony Hegarty became one of the most important, instantly recognizable, voices in queer music. The depth and power of themes ranging from identity politics, family relations, to death and love are once again explored on
The Crying Light
. It is melancholy at its best and introspective. There is not a lyric it seems that exists except to express any one of the many painful themes of the album. The album combines the vocal eeriness and soaring piano-led instrumentals that have come to define Antony and The Johnsons, even taking it a step further. If
I Am a Bird Now
was characterized by big name pop cameos (Boy George, Rufus Wainwright, and Lou Reed), this album is notable for the handful of arrangers and dozens of musicians credited. From the horns brandished on "Epilepsy is Dancing" to the ultra-dramatic album closer "Everglade", there is proof that Hegarty is creating new, affecting music out of disparate traditions. If
The Crying Light
is any indication, Hegarty and company will continue to reinvent the wheel, so to speak, with each new release, and for that--we should all be grateful.
David Johnson-Igra
: #4
Phoenix
:
Wolfgang Amadeus
In 2009 Phoenix became this year's MGMT. Otherwise unknown, nine years after their debut, Phoenix has become an international indie sensation. Though for the record, nine years ago I became a fan of the French band with their single,
"If I Ever Feel Better."
Yes, I do get a little satisfaction from this fact--it's my, "I told you so." Originally, the band's disco electro sound drew comparisons to Air, but with the refined sound of
Wolfgang Amadeus
, critics across the board will agree--Phoenix has found its musical identity. The band's ability to create catchy hooks got them noticed, but on
Wolfgang Amadeus
their perfection of tighter chord progressions and minimalist bridges made "Lisztomania" and "1901" ubiquitous summer hits. There's plenty to say about the album, tracks like "Fences," or "Lasso" were equally irresistible, but the best explanation of Phoenix is summed up in this video by the Brookyln Brat Pack. It's the infectious energy that makes it one of the top albums of 2009.